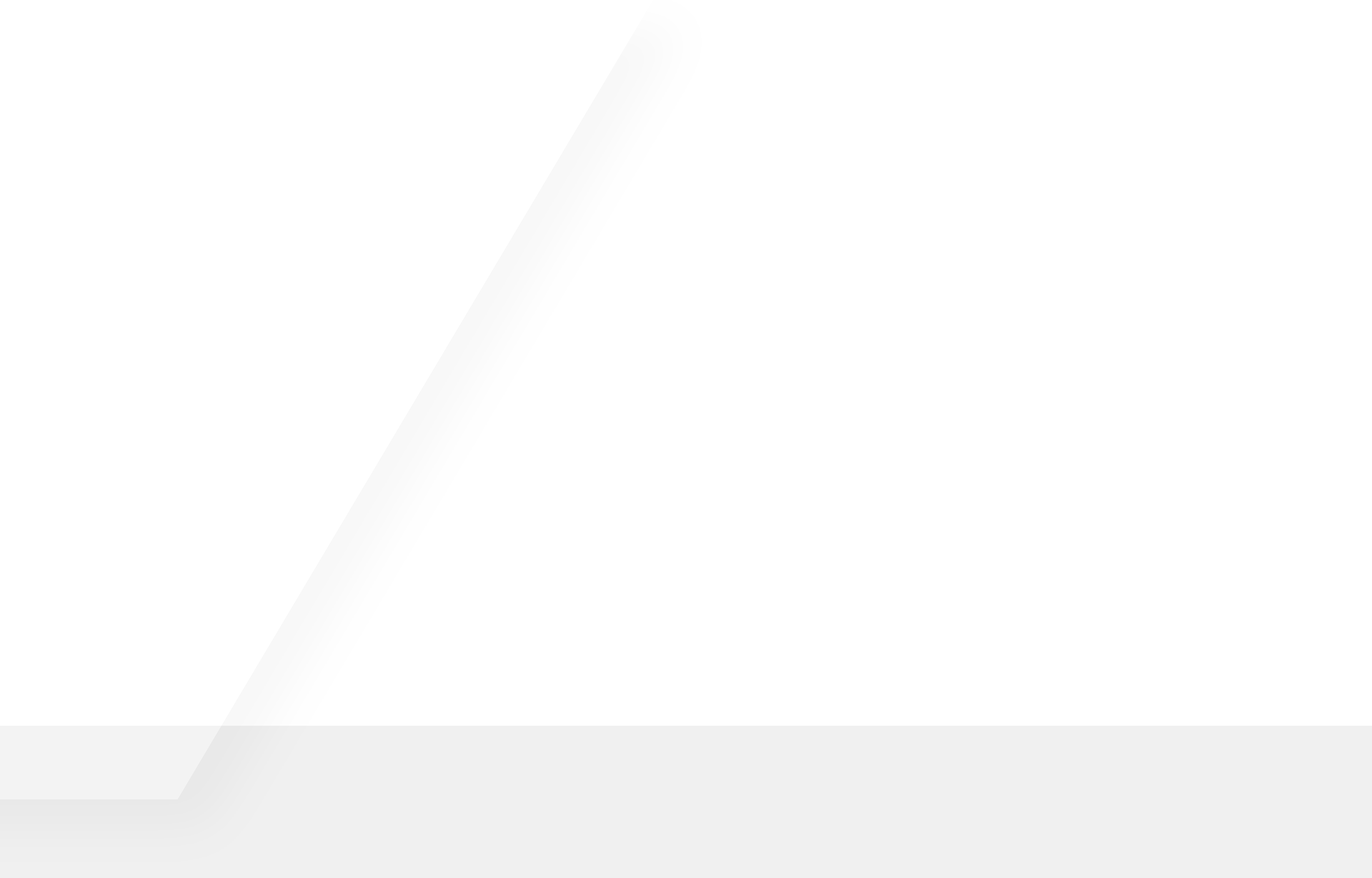 MWHire offers an extensive range of equipment to suit the smallest to largest scaled operations across Australia. We continue to be a key supplier of equipment to our industries; and through our expansive range of crane borers, we offer leading availability.
Our crane borer rentals allow you to use some of the industry's most advanced crane boring equipment, allow you to evaluate its technology without the commitment to purchase.
TRUCK SPECIFICATIONS
FVZ1400 with manual transmission

Cross locks and power dividers

Reverse camera

Battery isolator

Wheel chocks

Wheel nut indicators
CRANE BORER SPECIFICATIONS
Ozzy Cranes (manufacturer)

5/10T lift capacity

14m boom length

10 tone double fall hook block and stowage

current crane certification

9kg ABE fire extinguisher

9L Air water level 4 fire extinguisher

E-stops

360Dec continuous slew

Rear-mounted turret

Joystick hydraulic pilot control

Operator foot throttle

500L water capacity with pump and retractable hose real

2 x pole carriers

Pole callipers

Hydraulic tool outlet with retractable real

2 x Spare auger stowage

20T Pole jack and chains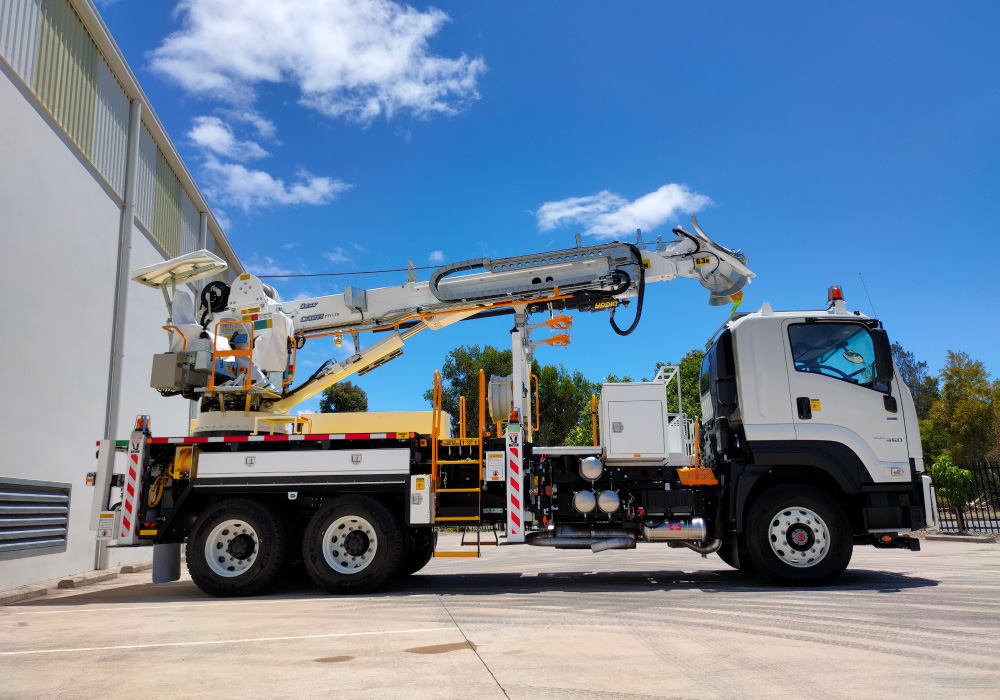 CRANE BORER SPECIFICATIONS (CONT)
Screw anchor set

Toolbox lockable full-length passenger side

General front lockable toolbox storage locker full width behind the cab

Emergency hydraulic pump

6" borer torque gauge

Plenty of tie-down rails

Pole tamper storage at the rear of the crane

Dunnage storage on both sides

Deck access on both sides

Beacons at front and rear

Previously owned by Ergon Energy – fitted to spec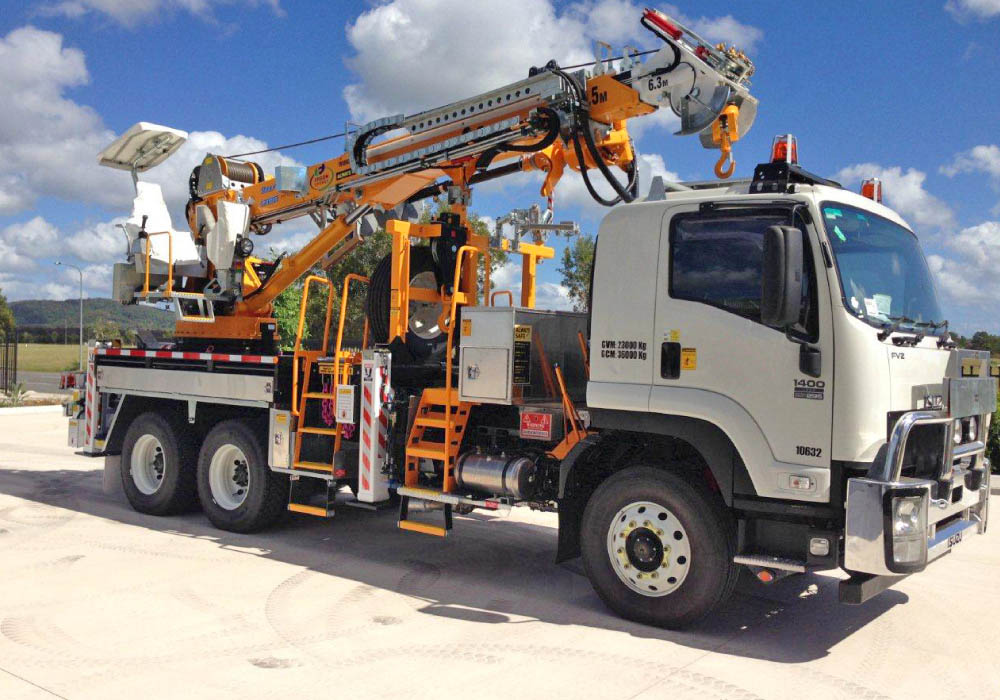 MULTIPLE OPERATIONS
Crane borers are designed to lift and move heavy loads to elevated heights. These functions alone are critical to most industries, especially those that must move objects around the site easily. A crane borers components are of particular interest to the construction and power distribution industries. With their ability to turn crane parts and place them toward the ground, they can easily generate holes with various diameters and depths. Once these holes are created, workers can place poles, streetlights, and others without any difficulties.
MOBILITY IN TIGHT SITUATIONS
What makes crane borers optimal is their ability to cover long distances, thanks to their equipped mounting arrangement and off-road traction. In addition to their stabilising legs, the operator is given versatility to work in any direction, safely and as close to the job as possible.
MULTIPLE OPERATIONS
Given the general composition of crane borers, they can easily perform numerous functions throughout their operations. These pieces of equipment can be used in erecting timber, concrete, and steel power poles. They can also hold, grab, or support the poles whenever necessary. The replacement of power poles, ground and pole transformers and other devices can also be conducted by crane borers as well as assist in the installation of streetlights and traffic lights.